Coming: Works In Development
I also aspire to write novels. These works are intended for traditional publishing.
One might well ask, if these books are not yet published, why do they have covers?
The answer is that I have been a graphic designer and illustrator for most of my life
and I just can't help myself.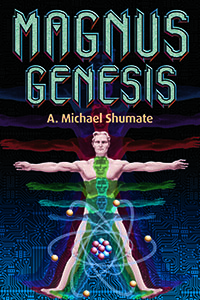 Magnus Genesis
Young Adult
Jared leaves the army after serving his time to create something non-military and works for a research center. There he invents a way for a person to shrink to as little as one-seventh normal size and up to expand seven times normal. Then he finds out his research center is back by jihadists who intend to use his invention to assassinate world and media leaders and take over the world. He has to stop them but they also have his invention and overwhelming odds on their side.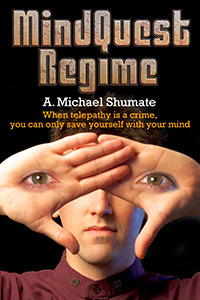 MindQuest Regime
Young Adult
The Regime is a totally militarized society where all get a name-rank at birth. IAK 902, who has a passion to know how the mind works, illegally experiments in mental telepathy. IAK and his fellow experimenters are arrested and condemned. The execution doesn't kill IAK, but enables him to read anyone's mind. Telepathy, more a curse than a blessing, is repulsive to him, he won't use it on his girlfriend JAN, the one person he most wants to understand. Now, they are hunted fugitives and telepathy may be the only way IAK can get them to safety.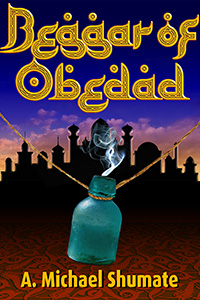 Beggar of Obedad
Young Adult
Persia, 900 AD. Rastin, a 20 year old street orphan loves Deeba, a slave girl. But he knows he is so poor, he will probably never earn enough to support a wife, let alone free a woman from slavery. Rastin opposes and repeatedly debunks the faked "magical powers" of an alchemist who tries to pass himself off as a genuine sorcerer. Rastin finds Sodi, who must be a genie, but Sodi can't do anything: can't turn Rastin into a prince, can't bring him a fabulous treasure, can't even bring him some food. But Sodi can see things that others do not and Rastin listens to him.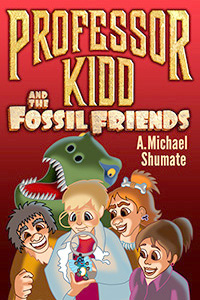 Professor Kidd and the Fossil Friends
Middle Grade
Nathan Kidd is so smart; most people call him Professor. His dad teaches at Cobbledick College where other friendly professors help Nathan with his never-ending experiments. Life is perfect … except his dad will loose his job and Bruce, an older bully, always picks on Nathan and makes life miserable. One evening while catching a firefly, a sudden thunderstorm comes up and lightning strikes the lightning bug Nathan just caught. From then on, little Sparky's light causes all sorts of bizarre things and the adventures are just beginning.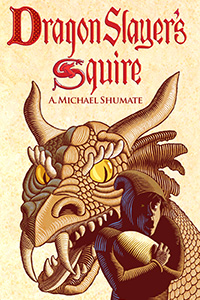 DragonSlayer's Squire
Young Adult
Tem figures he has the second-best job in the world as his father's assistant beast-master at Arcand Academy of Alchemy. When a friend of Tem's father asks him to go on a secret mission, Tem must leave the academy, which he loves, and his best friend, Avi. She is becoming something more to him. The mission turns out to be to protect a very old dragon who is about to lay her last clutch of eggs. They hunt giant worms and giant spiders that they feed the dragon. Instead of a clutch of eggs, she only lays a single egg, maybe the last dragon in the world.