What it Takes to Make It in Creative Fields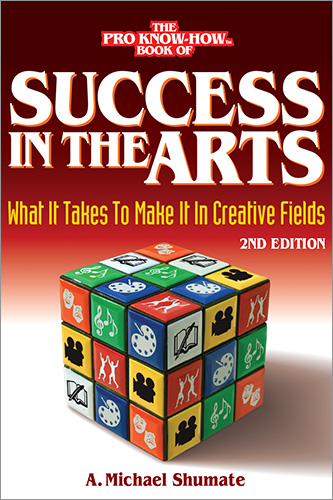 For All Aspiring Artists
Second Edition • 128 pages • 6 x 9
Paperback $11.95 ISBN: 9780995058453
Library of Congress Control Number 0995058458
Distributed by Ingram
A Gift for All Aspiring Artists:
Writers, Musicians, Filmmakers, Visual Artists, Dancers, Actors.
Talent is not enough, sometimes it's not even the most important quality to promote success in the arts. Here are bedrock principles for success that apply equally to all creative careers.
Learn to answer these essential questions:
• What factors contribute most to success in the arts?
• Do you have enough talent?
• What do you need besides talent?
• What are the myths about creativity?
• What is real creativity and how do you cultivate it?
• How do you get through tough times?
• How do you deal with criticism?
• How do you "get the breaks" in your field?
• What foundation principles don't change?
• How do you hang on to the important things in life?
• How do you keep from "selling your soul?"
• What if you don't make it?
What Readers Say about "Success In The Arts"
"a witty, easy-to-read book, with practical advice for those trying to break into the arts."

"clear, down-to-earth, and honest"
"principles that apply across all artistic fields"
"This book certainly is a valuable guide for life in the arts, and in the process, Michael wrote a guide for the art of life, too."
"an abundance of excellent,
thought-provoking points"
"gets to the heart of the attitudes necessary for real success"
Acknowledgments
Section 1: Personal experience
• Who Is the Grand Poobah?
• Fame at an Early Age
• Trial By Ordeal
• The Issue of Talent
• To Catch A Monkey
• Eat an Elephant
• Challenging Decisions
Section 2: Talent
• Everybody has some talents
    • The Magic of Talent
    • Inclination, Aptitude and Skill
    • Talent and Tangent Skills
    • Craft
• Discover Your Talents
    • Intelligence
    • Personal Strengths
    • Dyslexia
    • Nurture or Nature?
• Models of Talent
    • The Soil Model
    • The Seed Model
    • Why Worry About It?
• What is Creativity?
    • What Creativity Isn't
    • What Creativity Is
    • Brainstorming
    • Thinking Outside the Box
    • Using Your Back Burner
Section 3: Smarts
• Using Your Smarts
    • Learning Tricks
    • The Cycle
    • Seek a Mentor
    • Cultivate Challenging Peers
• Conventions, Rules and Principles
    • Conventions
    • Rules
    • Principles
    • Popular Art or Purist?
• Getting the Breaks
    • Luck or Leverage?
    • Get Out There
    • Underestimating Your Profession
    • Work Your Plan
    • The Art of Sacrifice
    • Marketing Yourself
    • Attitude Equals Altitude
    • Aim for the Top
    • Networking
• Don't Pop Your Own Bubble
    • Ease Off Before You Pop
    • Influence, Homage and Plagiarism
    • Finding Your Own Voice
    • Never Stop Learning
    • Take Care of Important Things
• Prima Donna or Professional
    • The Balancing Act
    • Walk the Fine Line
Section 4: Heart
• Paying Your Dues
    • Einstein, Mozart and da Vinci
    • Stretching Yourself
    • Get Going
    • Tough times
    • Face your bullies
• You Gotta Have Heart
    • Facing Criticism
    • Personal Taste
    • Valid Criticism
    • Consider Your sources
    • You Still Have to Be Yourself
• Getting and Giving
    • Life As Art
    • Teaching to Give Back and Learn
    • No One Wants to be a Wannabe
    • Don't give up
• What If I Don't Make It?
    • Suppose I don't Meet My Goals?
    • The Journey and the Destination
• Final Words
• About the Author
• Index